Welcome!
Thanks for stopping by. On the site you'll find lots of information about me and my novels. I hope you enjoy your visit.
OUT NOW!! My eighth novel, Standing Strong, was released April 1. It is the sequel to Wattle Creek and is a story about community spirit being put to the test.
Available in print and ebook formats throughout Australia and New Zealand - click here for more info., to read a sample chapter, and to order online.
Standing Strong is also available worldwide as a Bolinda audio book - click here for more info. on audio, listen to an excerpt, and to order online.
__________________________________
Standing Strong back cover blurb:
The sequel to the much-loved Wattle Creek.
Former city girl Jacqueline Havelock, Wattle Creek's newly arrived psychologist, has settled in to country life and is slowly coming to terms with the town's quirky ways. Farmer Damien McAllister's plans with his animal welfare venture are falling into place nicely and it finally feels like he has a future to look forward to.
But everything can change as quickly as the fickle weather – and it does. A fire challenges the community and soon Damien and Jacqueline find themselves in a situation neither had anticipated. But is their growing relationship also under threat?
Although the town comes out in support of their newest resident, is the Wattle Creek community strong enough to stand together and win this David and Goliath battle? And could happily-ever-after still be possible for Damien and Jacqueline?
__________________________________
"This is a very fine story, well-handled, and does not avoid the hard issues." The Weekly Times on Wattle Creek
Click here for more information and to purchase Wattle Creek online (AUS/NZ).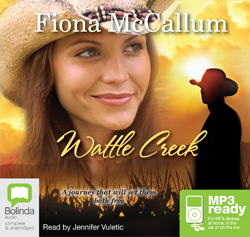 Click here to listen for more information on the Bolinda audio version of Wattle Creek.
To all of my readers - thank you. You mean so much to me. It's because of your support that my manuscripts are no longer doorstops and I am able to live my dream of being a novelist.
With very best wishes,

Aust/NZ releases - available in print and ebook formats (click on images for more info.):